Your One-Stop for Log Home Care
ABR® Products, Inc. is proud to present Log-Gevity™, a complete preservation and restoration system created to enhance, maintain, and protect your log home investment.

Log-Gevity™ Premium Log Home Care System is fashioned by ABR® Products' 35 years of experience inventing, developing and manufacturing a variety of preservation and restoration products.

Log-Gevity™ continues this tradition of excellence.

Click HERE for a FREE Log-Gevity™ Catalog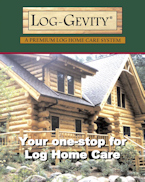 System

Products

Colors

FAQs
Contact

Dealers

Archive
©2005 American Building Restoration Products, Inc. All Rights Reserved.