Log-Gevity™ FAQs
Fact
– U.V. radiation and moisture degrade wood.
Question: Why is using Log-Gevity™ Log Stain & Stabilizer so important?



Non-stabilized log

Stabilized log

Answer: Log-Gevity™ Stain & Stabilizer is fortified with both metallic UV inhibitors and zinc borates which prevent the process of ultraviolet radiation degradation and water repellants that prevent moisture intrusion. Note the photographs to the left that display a non-stabilized vs. stabilized log. For new logs, it is important to apply a stabilizer to help lessen stress cracks and voids caused by age and moisture intrusion. For restored logs, it is important to fill those cracks or voids with this oil-based penetrate such as Log-Gevity™ Stain & Stabilizer to prohibit further stress. Log-Gevity™ Stain & Stabilizer has all the necessary protection before, during and after the construction phase. No other pretreatments are required. After cleaning your logs, you may also use Log-Gevity™ Stain & Stabilizer to rejuvenate the color, especially if it has faded substantially from sun exposure. Using the stabilizer for color rejuvenation is an easier more cost effective solution.

Ultraviolet radiation may pass through the initial finish coat and degrades the cell structure that the finish needs to adhere to. Log-Gevity™ Stain & Stabilizer is also fortified with metallic UV inhibitors that prevents this process of ultraviolet radiation degradation.
---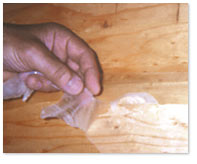 Question: What about using a water-based finish?
Answer
:
We do not recommend a water-based log finish as the first coat, because it swells the outer wood fiber, prohibiting the ultimate penetration when it is most needed. Try dropping water on toilet tissue, which is a by-product of wood. Watch it swell. Then drop a small amount of Log-Gevity™ Log Stain & Stabilizer oil-based penetrate on the tissue. See the penetration for yourself.
---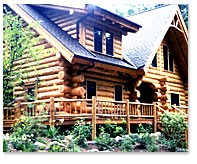 Question: What should I know about using a finish that produces a shiny film?
Answer:
We do not recommend using water-based/oil-based film forming finishes, such as varnishes and urethanes. These products are not suitable for exterior finishes due to ultraviolet radiation penetrating the transparent film and degrading the wood. Regardless of the number of coats, the finish will eventually become brittle and develop severe cracks, exposing the wood to further degradation. See the below chart for more information.
---
Guide to non-film forming v/s film-forming finishes

The most frequent problem that we have seen year after year is film forming products that have failed. The costly removal process that must take place afterward, which affects the integrity of the logs from strippers and sanding. There is also the risk of rotting under the film forming product which is a problem not only because it is aesthetically unappealing, but it is also very costly to repair.
*Chart/guide information provided by Forest Products Society Publication - Finishes for Exterior Wood

Click HERE for a FREE Log-Gevity™ Catalog


System

Products

Colors

FAQs
Contact

Dealers

Archive
Home
©2005-2007 American Building Restoration Products, Inc, All Rights Reserved.