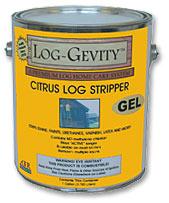 Unique formula for the removal of failed log finishes. Log-Gevity™ Citrus Log Stripper contains no methylene chloride and no neutralizing is needed. The ph balance is non-damaging to logs, future finishes, wood, masonry, plastered walls or metals. It is designed to remove multiple layers of finish, varnish, stains, latex paint and oil paint. It is recommended for log exteriors and interiors. It can also be used on fine furniture and cabinets. Log-Gevity™ Citrus Log Stripper remains moist and active longer, therefore penetrating more layers in one application.
Product Features
Biodegradable

Non caustic

Balanced ph
Product Benefits
Reusable
Cost effective
Does not raise the grain of the wood
No Methylene Chloride
Removes multiple layers of lead-based, oil and latex paint, as well as varnishes, stains and other finishes.