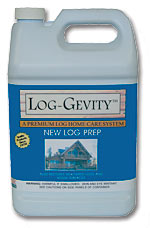 This product was developed to provide a solution for log discoloration which usually occurs during log home construction. The natural log color is lost during this phase when logs are stained by sap, insects, organic vegetation, construction dirt, airborne contaminants and general grey weathering. Log-Gevity™ New Log Prep restores the wood to its original rich warm color and texture while opening the grain, enabling it to accept the initial finish coat.
Note – In some cases bleach (sodium hypochlorite) or some other harsh, high pH chemical is used to remove the grey weathering that takes place during construction. Evidence of using an incorrect procedure to rectify this problem, will be a shiny, silver-like, membrane that when scratched, exhibits the natural log surface beneath it. In most cases, Log-Gevity™ New Log Prep is the appropriate choice to remedy this while preparing the log for its initial finish coat.
Product Features

Biodegradeable
Environmentally friendly
Oxalic acid based
Non-corrosive

Economical concentrate

Product Benefits

Cleans and eliminates years of fungus growth and discoloration.
Restores wood surfaces to the appearance of new lumber.
Does not dissolve the cellulose in the wood.
Product Attributes

Log-Gevity™ New Log Prep

Competition
(Sodium Hydroxide and Bleach Based)

Biodegradable

X

Corrosive

X

Dissolves Wood Fiber

X

Environmentally Friendly

X

Causes ozone depletion

X

Creates Paper Membrane Causing Poor Adhesion

X

Economical Concentrate

X

Oxalic Acid Based

X